Life With: Sarah, Sofia & Haydée (The Skirt Chronicles)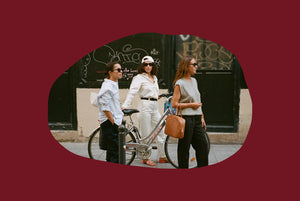 Life With: Sarah, Sofia & Haydée (The Skirt Chronicles)
With a common love for printed matters, The Skirt Chronicles, the Paris-based publication by Sarah de Mavaleix, Sofia Nebiolo and Haydée Touitou that was launched in March 2017. With non-stop talking about books, magazines, photography and writing they realized the perfect magazine didn't exist, so they decided to make it. We caught up with the girls at their favourite spots on a beautiful day in Paris.
ANOTHER ASPECT:
How did the idea for The Skirt Chronicles come about?
The Skirt Chronicles:

It was quite a long time ago now, but it really came from a common love for printed matters. That was maybe 2016! We all loved books, magazines, photography and writing, and talked about it together non stop. We also realized that our perfect magazine didn't exist, a publication that valued photography as much as the written world. So we decided to create it ourselves. Maybe it was also an excuse to spend more time together!
ANOTHER ASPECT:

What were the biggest challenges in launching the magazine?
The Skirt Chronicles:
It was all new when we began, so everything was a challenge: from choosing the paper to knowing what was the best edit for each piece. The biggest challenges were establishing the business aspect of the project as well as learning the ins and outs of the printing world. It is an exciting part of the project. We are very lucky to embark on this adventure with the talented printing house Manufacture des Deux Ponts, which has existed in France since 1935. Going to the printers twice a year is such a special moment, taking the train to reach the mountains near the town of Grenoble.
ANOTHER ASPECT:
The Skirt Chronicles is mainly a print publication. Can you tell us how print and digital content experiences can best blend and co-exist in our daily lives?
The Skirt Chronicles:
For us, digital is a support for the main attraction: the printed magazine. We are not naive, we know how much we depend on the digital to actually promote the print. We see an undeniable correlation between our growing presence on Instagram and our expanding readership. For us, this is how they are blending thus far, our digital presence is a necessary communications tool, but it can never replace the actual magazine. It allows us to promote our content in a more immediate manner. Even if we are having fun creating special content for digital sometimes, like new articles on the « Chronicles » section of our website (which also has texts from sold out issues).
ANOTHER ASPECT:
Why is it that you think print can tell stories that the internet can't capture?
The Skirt Chronicles:
For us, it all comes down to the moment of the reading, the experience. The internet can virtually capture everything print captures. However, there is no comparison in terms of the experience of reading something on paper, something you are holding in your hands, without notifications popping up at any moment. Our passion for that moment when you are holding a book, a magazine, in your hands, allowing your gaze to go from page to page; that was a very profound reason for us creating The Skirt Chronicles.
ANOTHER ASPECT:
What does the future look like for The Skirt Chronicles?
The Skirt Chronicles:
Our tenth Volume is not so far away as we are currently working on Volume IX. It's incredible to realize we have come this far and that there is so much more to come! We hold no limit to what The Skirt Chronicles can become. And the tenth issue mark is an existing threshold as we have a lot of dreams for The Skirt Chronicles! But most of all, we want to keep having fun while doing it.
Sofia wears ANOTHER Pants 1.0 (see more) & ANOTHER Vest 1.0, Sand Melange (see more). 
ANOTHER ASPECT:
Finally, do you have any cultural recommendations for our readers - any magazine, books, films or music that you've enjoyed lately?
Haydée:
I am currently reading Jean Arp's poems, I know his work as a sculptor and it's fascinating discovering his other body of work.
Sofia:
I recently watched the documentary about Marcel Bruer's collection of private homes and the fascinating clients and patrons that made up this progressive community between the 1950's and 1970's in the suburban east coast of the United States.
Sarah:
It's not very original but I found Renate Reinsve astonishing in The Worst Person in the World by Joachim Trier ! And anything recorded from Carlos Kleiber's Beethoven sessions.
Haydée wears ANOTHER Shirt 3.0, Wimbledon White (see more) & ANOTHER Pants 2.0, Antique White (see more).