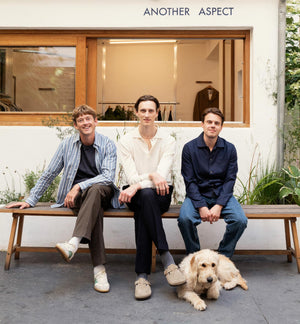 Is it time for ANOTHER ASPECT?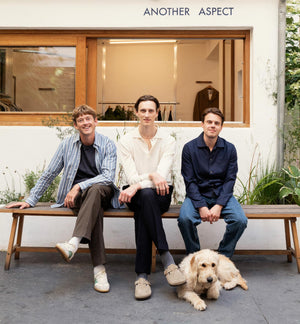 ANOTHER ASPECT is founded from the belief that we have an inherent obligation to consider each singular step of our operations and even beyond that; from how we source our raw materials over how it is processed and sewn, how we package it and the ways that we ship our product to how our consumer can best care for the product, how it can be reused and, in the grand scheme of things, how we consume clothing. Our collections grow from an appreciation of going about one's daily routines while making space for new adventures. By building on archetypal forms and classic elements, we want to create clothes that can complement wherever our everyday journey may take us, be it towards familiar paths or along unknown routes.
Our perception of responsible design is rooted in the idea that a product is no better than the material in which it is made. For that reason, we spend a lot of time finding the right fabrics for our garments.The material affects everything throughout the lifecycle of each garment; it's carbon footprint, how it acts after having been washed and how it can be potentially recycled at the end of its life
Doing better by better design
Working from the idea of creating timeless elements in responsible materials with an aspiring universe around it, we believe in creating designs with longevity in both their character and quality, helping customers buy better and, hopefully, buy less. We strive to reconsider the archetypal elements of menswear through a modern yet long-lasting scope—removing all the superfluous noise that far too often make menswear trendy instead of timeless and adding the pragmatic functionalities that we need as consumers in order for our products to serve their inherent purpose. By doing so, we want to offer a precisely curated wardrobe through a selection of seasonless products that'll last in perpetuity while allowing for various ways of wear, according to the modern man's daily needs across activity, personality and environment.
Causing no unnecessary harm
Many would argue that starting a clothing brand is probably one of the last things that you should do if you'd like to save the earth and to be honest, we entirely agree. That is, only up until the extent where no new ways of working are brought to the table. The very operations of our brand are an inherent part of the environmental issue that our planet is facing yet we believe that we can nudge the clothing industry in the right direction by making it easier for the customer to make better and more sustainable choices by providing a superior product at a reasonable price point, challenging the current ways of our industry and educating customers in a positive way. As part of this objective, we strive to only use materials with lessened environmental harm, be it recycled cotton, Tencel which is made from eucalyptus trees or deadstock materials that would've ended up in a landfill.
Circularity
We want to prolong the life and wear of each single product that we put into the world. Enter ANOTHER Life: An initiative in which we take back our products at the end of their lifespan in exchange for a discount on the customer's next purchase, allowing us to either reuse the material from the product or ensure that it is donated to an appropriate charity.