Life With: Sara Arroyo & Silvia Pérez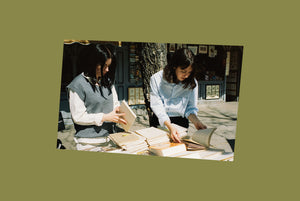 Life With: Sara Arroyo & Silvia Pérez
We caught up with Sara Arroyo & Silvia Pérez from TAMBOURINE, a Madrid-based online platform that supports the independent magazine scene, talking about all things printed media and why Madrid is enroute to becoming the new creative hub of Europe.
ANOTHER ASPECT:
How did the idea for TAMBOURINE come about?
SARA:

We noticed that Madrid was lacking a wider selection of independently published magazines and we wanted to fill that void. Being avid book and magazine readers ourselves, we always had to resort to our travels abroad in order to come in contact with all these publications that weren't being offered in Madrid, or anywhere else in Spain, really. And we thought that, like us, there had to be others who wanted these things too. Turns out, there were!
ANOTHER ASPECT:

Why do you think that people keep going back to physical magazines when there are unlimited resources for us to explore online?
SARA:
To some extent, it's a reaction. There are a number of reasons that have always been valid, of which some have been, in my opinion, underlined by the pandemic, like a craving for the object, for its tactile qualities. A big part of our lives takes place between screens, within the digital spheres. This is leaving a void which, together with many other things, paper seems to be filling. In parallel, and derived as well from our "digital" lives, is the matter of pace. Most online content is designed to be consumed fast, and in small doses. Paper directly challenges this and allows the reader to slow down, which modern society is very much in need of.
ANOTHER ASPECT:
How can the medium of printed magazines be used to tell stories that the internet can't capture?
SILVIA:
In my opinion, each medium has its own narrative tools, and the printed format has a very specific one, maybe more related to a sequential order where one thing comes after the other. This allows, in a way, to tell things in a particular progressive way that can also be broken down. On the other hand, the internet and screens alike have many other tools and mixed narratives that also have their particularities. It all depends on what you want to say, how you want to do it and then choosing the most suitable format from there.
SARA:
As Silvia mentioned, it has a lot to do with narrative and its inevitable influence over content, which, in turn, is linked to the reader's experience. Reading an article or a photo editorial, leafing through the pages of a magazine - with its quadrangular format, a spine, a specific type of paper, a specific type of printing - is not the same as scrolling through that same article or photo editorial on a screen. Editors and creatives working within printed matter are aware of this when developing their content in order to align what they are saying with how the reader is going to experience it. 
ANOTHER ASPECT:
Is there any magazine that you would like to get your hands on, but haven't been able to pick it up yet?
SARA:
Quite a few, actually! Specially Japanese and South-Korean magazines, and some based in the U.S. Logistically, it's often difficult or impossible to bring these to Europe if they don't have European distribution. At this point, your previous questions come into play, since the only way to enjoy some of these title's contents ends up being through a screen, via their websites or social media platforms. At least until distribution is sorted out, that is.
SILVIA:
In addition to what Sara spoke on, we are both also big lovers of editorial design history and we have always been attracted to some of the magazines that have made history in a way or the other and now have disappeared. I think that there in the back of our minds have always been the idea to bring some vintage magazine stocks for the most nostalgic collectors such as Nest, old issues of The Face, Colors, etc.

Silvia (left) wears ANOTHER Shirt 3.0, Wimbledon White (see more), ANOTHER Vest 1.0, Grey Melange & ANOTHER Pants 1.0, Antique White (see more). Sara wears ANOTHER Shirt 3.0, Sky Blue (see more) & ANOTHER Pants 2.0, Night Sky Navy (see more).
ANOTHER ASPECT:
If you were about to start a magazine, what would it be about?
SILVIA:
Good question but hard to answer though.  Nowadays I would say there is a magazine on almost every topic! I felt very attracted to how things are made, processes of work, or tricks that make your life better.  A great glossary of life-hacks, maybe? What is sure is that I won't make one about NFTs, hehe.
SARA:
It's difficult to name a subject that hasn't already been explored in a magazine, especially for independent magazines that tend to thrive on bizarre and unsuspected topics. In my case, it would probably be a magazine that brings language into question, offering a blank canvas for creatives and researchers to roam about the subject, using any discipline as their starting point. Its periodical nature would allow circumstances to contribute to the shaping of its contents, which is one of the qualities that make magazines stand out among other paper-based publications.
ANOTHER ASPECT:
Madrid seems like a creative hub, where people take a lot of chances to pursue their own dreams and start niche businesses. Why do you think that is?
SARA:
This is true. In the last few years, Madrid has become a focal point for creative entrepreneurship which, in my opinion, is derived from a lack of options and a will to fulfil a variety of needs that weren't otherwise met. It's thrilling to be developing a business in a city like this where there's still a lot to do and you're surrounded by a lot of people with initiative and energy to explore new territories.
SILVIA:
It is very thrilling with all the things that are happening right now! And it is a notoriously big change from a few years ago. We are also noticing that it is becoming a more international city with more foreigners choosing Madrid for living and starting new projects, because of the weather and the cost of living which made Madrid a city with a very good quality of life. It also makes us locals see our own city in a new light, which I think is healthy too.
ANOTHER ASPECT:
Finally, do you have any cultural recommendations for our readers - any magazine, books, films or music that you've enjoyed lately?
SARA:
I recently discovered a London-based magazine called PIC PUS which has great pieces of writing on art and culture. It's free and I love it's A5 format that unfolds something like an A3 sheet. Also out of London, I love a small book publisher called Lolli Editions that publishes contemporary fiction by non-English authors. It was through them that I've discovered the works of Danish writers like Amalie Smith and Olga Ravn.
SILVIA:
I will recommend everyone to keep an eye on Madrid- founded new releases, one of them being "2021", an annual magazine by Adela Rodriguez that seeks to predict what it is going to be the trends for the year ahead while showcasing the most emerging creatives not only from Madrid, but also from everywhere else. It will be available on our website soon.
Silvia (left) wears ANOTHER Shirt 3.0, Wimbledon White (see more), ANOTHER Vest 1.0, Grey Melange & ANOTHER Pants 1.0, Antique White (see more). Sara wears ANOTHER Shirt 3.0, Sky Blue (see more) & ANOTHER Pants 2.0, Night Sky Navy (see more).