Life With: Fatima Fransson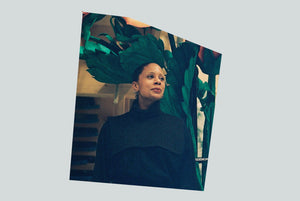 Life With: Fatima Fransson
We sat down with Copenhagen-based furniture and set designer Fatima Fransson for a conversation on her work that is rooted in a desire to define rooms and spaces for clients all over the world.
ANOTHER ASPECT:
You're an educated furniture designer. When did you realize that those skills could be applied to the world of set design?
FATIMA FRANSSON:

I have always been curious towards finding ways of communicating with people and searched challenges in the creative too develop. That led me to studying Furniture & Object Design 5 years at The Royal Danish Academy -Architecture, Design, Conservation. Studying there provided me with an in-depth understanding of spaces, forms and materials; how one takes an idea and applies it to a specific craft. I started doing set designs on the last year of my master's degree, first for Elle Sweden and then for "Markared", IKEA's collaboration with Virgil Abloh, building everything from floors, to walls, podiums and even made a construction to create the illusion of floating pieces clothes in the air. And then it went from there. I've done a huge sneakers sculpture for Axel Arigato, made a textile installation for Hope Stockholm and set design for Georg Jensen, Stine Goya an array of brands and publications. 
ANOTHER ASPECT:

Do you find any similarities between fashion design and furnitures?
FATIMA FRANSSON:
Both are a medium that seeks to encapsulate one's personal style, reflecting who one is a person and how we feel in daily life—they are means for us to express ourselves freely.
ANOTHER ASPECT:
What's more important in furniture design—comfort or form?
FATIMA FRANSSON:
Well, form follows function, as the architect Louis Sullivan once said, working from the belief that the form will unveil itself if you put function first. However, studies show that this isn't always the case. Instead, the two interact with one another while the elements of spatial purpose, user and context factor in as well.

Fatima wears ANOTHER Sweater 2.0, Sand Melange (see more).
ANOTHER ASPECT:
What is your favorite material to work with these days?
FATIMA FRANSSON:
A lot of my work is concerned with understanding the vision of the given client; what type of business are they? What do they want me to create and for which environment? Is it film, still life, editorial or an installation? From there, I choose the most appropriate medium through sketches, drawings and workshopping things before actually executing on the idea. No matter if I'm working with furniture, objects or set design, they all relate to body and space,  - the physical as well as the virtual, and the materials and colors applied need to be a reflection of that fact.
Fatima wears ANOTHER Shirt 2.1, Black (see more)