Life With: Manon Fraser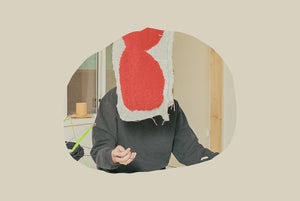 Life With: Manon Fraser
While studying in Amsterdam, canadian born Manon Fraser experienced the loneliest of times. But as the story often goes, harsh times throws off/catapults new ventures. In Manon's case a new art form, which led her out of the digital world and back into our physical world - for a, some would say, more creative and joyful life.
ANOTHER ASPECT:
You've recently started making rugs on your own. How did this come about?
MANON FRASER:

I have to preface that I am by no means a crafts-person and that the rugs I make are merely responses to my surroundings and experiences – I make for the joy of it. Rug making started as a material exploration. 
I came across tufting in 2017 while studying abroad in the Netherlands. At the time, I experienced a significant transformation in my practice due to being sequestered in a city full of people I didn't know and a language I didn't understand. At one of the loneliest times in my life, I was drawn to a more embodied practice, where I was seeking more involvement in a material-based process rather than a digital one. Tufting and rug making just fit the bill. The process of making has its stark evolution from blank canvas to "plush soft thing." Texturally rugs insinuate a type of movement and touch that I often felt lacked in my graphic work.
ANOTHER ASPECT:

How do you balance your time between doing commercial work and the more artistic things?
MANON FRASER:
I'm not sure if there is a balance between the two. My artistic work permeates within my design work and vice versa. These spaces of mindful collaboration are constantly informing one another through its medium and its process. I do believe that in some cases it is crucial to set boundaries, in regards to the amount of work I take on vs. the amount of work I physically can do. But generally speaking, the balance comes with the property of the medium that I'm choosing to take on. Luckily, making rugs from start to finish takes time.
ANOTHER ASPECT:
How do you find yourself delving into new mediums?
MANON FRASER:
It doesn't happen overnight. I usually let my intuition lead the way.
ANOTHER ASPECT:
What does making things bring to your life and what are you hoping that your work will provide for others?
MANON FRASER:
Making is comforting to me. I like working with my hands and embodying the process of each piece that I take on. It is the act that I am interested in the most — it is the shifting of weight to reach certain spots, tilting my head while following drawn lines, or finding a rhythm in my posturing while binding an edge. I'd like to think that someone might come away from my work with a fresh perspective towards their own making, an outlook that celebrates the process over the outcome.

Manon wears ANOTHER Shirt 2.0, Black (see more).
ANOTHER ASPECT:
How would you describe your personal style?
MANON FRASER:
I couldn't for the life of me describe it for myself so I asked a few close friends: Simple, elegant, utilitarian, detail-oriented, relaxed, bold moments, inquisitive, probing, androgynous, weighted and embodied.
Manon wears ANOTHER Sweatshirt 1.0, Night Sky Navy (see more).