Life With: Nikolaj Mentze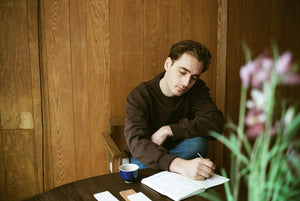 Life With: Nikolaj Mentze
We recently caught up with Nikolaj Mentze: architect, designer, and owner of Studio 0405 in a conversation around all things related to good design and spaces. We turned to Nikolaj when our new store at Værnedamsvej 16a was designed, as we have always admired his aesthetics and organic approach to designing spaces.
ANOTHER ASPECT:
How did you arrive at design? If you weren't working in design, what do you think you would be working in?
Nikolaj Mentze:

It's about being aware, seeing what surrounds you. Is it haptic, and how does it feel? Through its narrative, an object represents emotion and is seen in a larger context.
It's the same in our food industry here; you are faced with the same choices when you draw a lamp — ingredients, preparation, plating, and context. And on the design, you have materials, manufacturing, marketing, and sales. So if I didn't make furniture, I would work with food. It is as much about our sensory system. And like architecture and design, our food culture tells all about the tendency in society.
ANOTHER ASPECT:

How did you develop your style as a designer? 
Nikolaj Mentze:
I never thought I had a style. I seize the opportunities and turn them into saleable items within the qualities of the material. Style comes in waves, and good design holds the qualities of the time.
ANOTHER ASPECT:
If you could only create one type of product for the rest of your career, what would it be and why?
Nikolaj Mentze:
It would be a product with a long life span; it doesn't matter if it is a spoon or a door handle as long as we tangibly meet the world. 
ANOTHER ASPECT:
Tell us about a favorite place of yours in Copenhagen?
Nikolaj Mentze:
I'm born next to the botanical garden in Copenhagen, and I still enjoy spotting turtles in the lake in the middle of the garden. 
Nikolaj wears ANOTHER Shirt 2.1, Light Beige Olive (see more) & ANOTHER Jeans 1.0, Used Blue (see more).
ANOTHER ASPECT:
What are some tips for buying furniture and objects? 
Nikolaj Mentze:
I recently designed some stuff for Fora Projects, which combines materials, craft, and a long-lasting, sustainable approach. So that will be my new dining table.
Nikolaj wears ANOTHER Denim Jacket 1.0, Raw Indigo (see more) & ANOTHER Pants 2.0, Teak (see more).