Life With: Jon Pilkington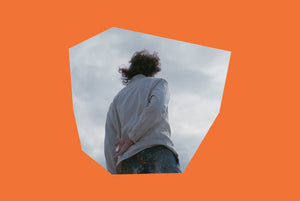 Life With: Jon Pilkington
For the second edition of Life With, a series of informal conversations with people that inspire us in one way or another, we speak with Jon Pilkington, a Liverpool-born painter who now resides in Copenhagen, Denmark
ANOTHER ASPECT:
Jackson Pollock once said that painting is self-discovery. Do you feel the same?
JON PILKINGTON:
It's a bit of both, I think. My studio is a safe zone; I can do whatever I want without thinking about being organized and the work comes from this type of chaos. I've always found that the surroundings in which I work shape the final outcome. The work is an extension of my own self, my thoughts and my ideas. At its heart is the physicality of the process, working through the struggle that it can be to get a painting done.
ANOTHER ASPECT:
Does your own perception of your work change when seeing it as a finalized piece in the studio and then again a week later, hanging in the spatial purity of a gallery space?
JON PILKINGTON:
It gets another life and takes on a new energy when I see it outside of the studio. Though the thing is, I'm the person who decides when the painting is finished whereas people who visit my studio may not perceive the finished pieces standing there as an actual, completed work of art because of its messy surroundings. It's the same to me though, you know: The gallery is one stage, the studio is another but the work remains the same. It's funny though, how I treat a piece differently when it's in the studio; I can step over it, walk on it and nobody will know, but as soon as it's out the door, it becomes more of an object. However, the emotional sentiment remains the same.
Jon wears ANOTHER Shirt 2.1, Natural (see more)
ANOTHER ASPECT:
What's the most difficult thing that you've ever painted?

JON PILKINGTON:
I've started making a series of paintings about football lately, weaving elements from that into bigger compositions. You know, with a guy doing kick-ups in the middle of an abstract scene and all. And yes, sure, those painting are bound to go somewhere in the world at some point but that's irrelevant due to the fact that the work is self-referential: I'm making them for myself and that's what makes them so hard to paint.

Jon wears ANOTHER Shirt 2.1, Natural (see more)
ANOTHER ASPECT:
If someone asked you to tell them what the opposite of painting was, what'd you tell them?
JON PILKINGTON:
Society. Anything with rules. Sure, there are rules within painting but there's no one to tell them to you; you make them on your own. Painting is the only place in the world where I can make my own rules and live by them. To me, it's the only form of escapism that I know of.
ANOTHER ASPECT:
If you could choose between being a Liverpool fan or being a painter for the rest of your life, which it would be?
JON PILKINGTON:
Being a Liverpool fan. We just won the championship—I've been waiting my whole life for this, you know?