Life With: Flynn McGarry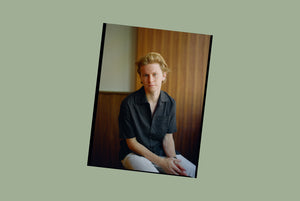 Life With: Flynn McGarry
Introducing Life With, a series of informal conversations with people that inspire use in one way or another, be it through their individual character, something funny they once told us over a drink, the things that they create or any other thing in the world. For our first Life With, we call up New York-based chef Flynn McGarry to hear his thoughts on some things that we'd like to know more about.
ANOTHER ASPECT:
What do you think the greatest misconception amongst the public about being a chef is?
FLYNN MCGARRY:
That chefs just cook food and that's it. As a chef, you're the person at the helm of a space and an experience: You dictate the way that people move in the space and how they experience it. I find that chefs are more often creative directors than they are cooks.
ANOTHER ASPECT:
How big a percentage of your time is actually spent on cooking and developing recipes?
FLYNN MCGARRY:
I'd say fifty-fifty or so. In my view, the role of the chef is constantly changing and morphing where I split my time between actually cooking food and doing administrative work, working on the business side, doing interviews, preparing the restaurant for service and everything else in-between.
Flynn's is wearing ANOTHER Vest 1.0, Grey Melange (Available in August 2020)
ANOTHER ASPECT:
Would you rather not be able to cook with salt ever again or only being able to do raw food for the rest of your life?
FLYNN MCGARRY:
I'd just do raw food. Personally, I can eat raw vegetables and a steak tartare and not be mad about it but I can't imagine eating food without any salt in it. Not being able to use salt is probably the worst thing that could happen in cooking: It's one of the most imperative elements there and I think that a lot of people underestimate that. I've had so many people ask me why this or that food tasted so much better when they got at in a restaurant and mostly, it's because we use the correct amount of salt. So yeah, I'm down for eating things raw, as long as they have a nice type of salt on them.
Flynn's is wearing ANOTHER Shirt 2.0, Black (see more)
ANOTHER ASPECT:
At which point did you realise that you fell in love with being a chef?
FLYNN MCGARRY:
I was around 13 and had started spending time in restaurants. I became obsessed with the level of attention-to-detail that I experienced. Cooking had always satisfied me but I realized that being a chef and the breadth of work that you do in that role could also satisfy all these other sensibilities that I had.
ANOTHER ASPECT:
Do you ever not feel like cooking?
FLYNN MCGARRY:
Sometimes, yeah. But you have to flip the switch, because what else are you gonna do? You have guests coming for dinner and you can't really tell them: "Nope, sorry. Didn't really feel like cooking tonight." A lot of the times where I didn't feel like cooking and I ended up doing it anyway, it was usually because I was in a bad mood before service but when the night was done, I ended up feeling fine. There are periods where I don't feel like cooking but as long as I figure out a reason why and find a way to do something else to give people the right experience, then it works out. Most important thing is that you don't disappoint your guests.
Flynn's is wearing ANOTHER Vest 1.0, Grey Melange (Available in August 2020)
ANOTHER ASPECT:
Is that point of not wanting to cook where cooking starts being work and stops being cooking?
FLYNN MCGARRY:
Yeah and that's why we close down the restaurant for periods of time during the year—when it starts to feel like work. The break allows us to switch into research mode, travelling to different places and then going back to the restaurant and translating those experiences into the food as well as the space.
ANOTHER ASPECT:
What do you want your food to fell like?
FLYNN MCGARRY:
I want it to feel effortless. One of the most impressive things in any restaurant is when you go there and sit down for dinner or whatever and it feels like they just sort of threw it all together in that moment even though it could've taken them five days to prepare. It feels like eating at someone's house and that's the feeling that I want for people who visit Gem to have.
Flynn's is wearing ANOTHER Shirt 2.1, Natural (see more)
PHOTOS BY: 
FLYNN MCGARRY: 
@dinningwithflynn