Life With: Anemone Sejr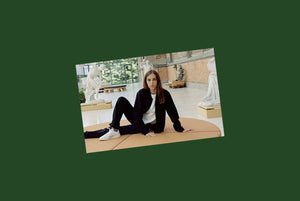 Life With: Anemone Sejr
For the third edition of Life With, a series of informal conversations with people that inspire us in one way or another, we speak with Anemone Sejr, a Copenhagen-based creative and founder of magazine Insert Yourself Here.
Anemone wears ANOTHER Shirt 2.1, Black (see more)
ANOTHER ASPECT:
Can any one person in the world do anything that they want, so long as they put their mind to it?
ANEMONE SEJR:
I've always wanted for that to be true because I often like to work alone and I'm quite introverted but there are some situations where I don't think that it's possible. I believe that you can come a long way on your own but it depends on what you're doing. If you want to expand, you need to distribute your tasks to be successful but this also depends on what success means to you. It can be good, having a team of people that understand you and think the same way as you, but it really depends on the person, situation and the goal.
I don't believe in waiting for an opportunity or someone to come into your life or help coming in from the outside. Having a partner in crime is a blessing but you can't be waiting for it to happen. You need to just do it and make own your ideas reality and then somebody might come in and help you along the way. I truly believe that we are best when together rather than alone but it's difficult to find the right synergy that you can take good things from.
Anemone wears ANOTHER Shirt 2.1, Night Sky Navy (see more)
ANOTHER ASPECT:
It seems that whereas in the past, one often had to undertake formal education within a given discipline, be it design, art, fashion or publishing, while today, emerging creatives often dive right into the pool without any relevant educational merits. Do you think this is a good or a bad thing?

ANEMONE SEJR:
It's a good thing. You don't need a degree in something to be successful but of course, it's a bigger challenge to dive right into things without experience. Some people are just not built to sit in a classroom and learn about stuff for years. Some work better by doing and learning as they go. We need to be more understanding of dissimilarity, appreciating that there is no right or wrong way. You are not necessarily more talented, just because you have a degree. 
I spend a lot of time researching and educating myself about other creatives. It inspires me and gives me a feeling that I am not alone. It makes me feel that there is an opportunity for me to be my authentic self and live off of my ideas.
I think it's very important to find allies and people that understand you because it can become lonely quite easily. I haven't found that yet, but hopefully someday, I will be part of a bigger picture.
ANOTHER ASPECT:
Would you say that your magazine, Insert Yourself Here, is more of an outlet for young creatives than it is a depiction of your view on creative disciplines?

ANEMONE SEJR:
Both, but more than anything, it's an outlet that is created to inspire and motivate young people to believe in themselves. The purpose is to show a new youth and a new way of doing things.

Anemone wears ANOTHER Shirt 2.0, Natural (see more)
ANOTHER ASPECT:
What has surprised you the most throughout the process of launching your own magazine?
ANEMONE SEJR:
How much work that goes into it. How many details that you need to be aware of and make decisions based on. But also, how many people that actually wanted to support and become part of it. Especially all the messages that I've got from people, asking if they can contribute with their skills to the next magazine, be it through photography, writing additional hands in general. It proves that there are people out there; you just need to find the right ones. You are not alone. I'm not sure that there will be a second issue, but I'm working on other new ideas.
ANOTHER ASPECT:
Should lifestyle magazines more be for the many than the few?
ANEMONE SEJR:
There are so many small independent magazines that don't get the credit they deserve. But at the same time, it's very limited in terms of interest. So naturally, there won't be that many people paying attention, but I would wish that small magazines would get more shine and become a more ordinary thing to buy and be aware of. I think it would be an inspiration to everyone.
Right now, there is this stereotype that a magazine is about fashion and the newest trends. It should be considered an art piece or an outlet for all kinds of stuff, that everyone can find interesting and benefit from.
ANOTHER ASPECT:
Would you say that the creation of the magazine itself of Insert Yourself Here is the overarching aim of your work or is there something more value-based that drives you?
ANEMONE SEJR:
Both. Launching Insert Yourself Here was never thought of as launching the next new magazine. The underlying idea that drives me is to inspire the youth and to take some chances though the future is unknown—to create awareness that you are not alone and that if you want something, you can make it happen. 
I often feel pressure from society about being a specific way and doing stuff in a specific way. We as a society often value and admire the people that are kind to everyone, have a lot of friends, have a confident personality and are very extroverted. That's kind of what you get credit for. Don't get me wrong, I'm not saying this kind of personality is bad but it makes people, who are not this way, feel inadequate. We have learned to think about life and each other as things that are extremely boxed-in. It would be nice if we could be more understanding and to make the notion, that not everything fits into that one category, persevere. There shouldn't be that kind of pressure on anyone.
I never thought I would be able to finish my magazine when I first started. I was sure that it was just something that would stay in my computer without ever coming out into the world. Getting it published was the greatest accomplishment to me and just that made it a success in its own right. And then actually seeing a lot of people buying the magazine just makes me even more proud.
Anemone wears ANOTHER Shirt 2.1, Black (see more)