Life With: Cobey Arner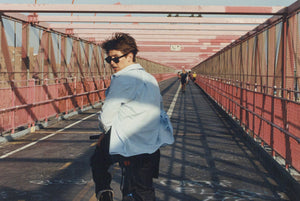 Life With: Cobey Arner
We recently caught up with Cobey Arner, a photographer, videographer, and musician in New York City, to spend a day biking around, taking photos, and discussing work, life, and creativity. 
ANOTHER ASPECT:
What inspires you? 
Cobey Arner:

Lately, I've been collecting old issues of Another Magazine and going thru my friend's Abercrombie & Fitch Quarterlies from the early aughts. Roxy Music, Dire Straits, and the Strokes for music. Traveling a lot also keeps my mind in motion.
ANOTHER ASPECT:

CA:
I always try to create with intention. Even if I don't feel inspired, I think doing – practicing – can lead you to the next idea. New York is great because you can have a concept, text a few friends, and execute that concept within a matter of hours. I can walk with a camera in my hand and see what happens or spend a few solo hours practicing in the studio, playing along to my favorite songs. The intention is to do the thing instead of thinking about it. Show up, be present, and keep getting better.
ANOTHER ASPECT:
CA:
Taking a photo or playing with my band brings about a similar feeling. I feel like it's the only time my mind isn't racing – a state of bliss. Once I leave the set, or the song/concert is over, I realize how present I was in those moments. That's the feeling I'm chasing. 
ANOTHER ASPECT:
Your photos are very intimate. Why are you drawn to this style? 
CA:
I'm drawn to the less-staged, more natural, candid photographers of our time. Catching those in-between moments or capturing someone with their guard down feels more humanizing than a mega-staged/glammed-out image. Although it's difficult to master, it presents a challenge I enjoy. The sense of intimacy comes from trying to find the raw emotion in the subject or me.
Cobey wears ANOTHER Polo Shirt 3.0, Light Grey Melange & ANOTHER Pants 1.0, Dark Grey Melange (see more) 
ANOTHER ASPECT:
Could you let us in on your creative process? 
CA:
Collaboration has been an integral part of my process recently. Working with friends pushes me to aim high. Accountability and honest communication typically result in a better end product. This can also help introduce new ideas or a new point of view I haven't considered. My goal is to push myself out of my comfort zone constantly, and I feel like I'm starting to achieve that through working with people I love and respect.
ANOTHER ASPECT:
What is your earliest memory of photography? 
CA:
Photographing and videoing my brother skateboarding when we were young are my first memories of holding a camera and intentionally trying to capture a moment.
ANOTHER ASPECT:
CA:
It's an accurate way to present my experience – how I see and observe.
ANOTHER ASPECT:
CA:
My parents, who worked very hard to help me realize my interests and talents, my bandmates, and my friend and mentor Chris who convinced me to move to New York.
PHOTOS BY: