Cooking With: Alex Szwałek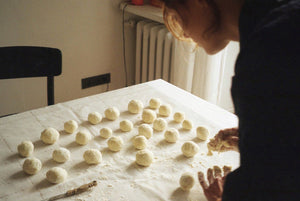 Cooking With: Alex Szwałek
For the latest episode of Cooking With, we would like to welcome you to 
Alex Szwałek. A model and chef from Warsaw, she cooked her favorite polish dish "knedle ze śliwkami." A Slavic dish that her grandma used to cook for her.
My grandma was rolling these tiny balls all around the kitchen table, and I remember it like a comfortable and soothing dish for all seasons. Polish culinary culture is strongly built around potatoes, flour, and various mixtures. Making the dumpling brings so much gratitude, acts as meditative, and helps me feel grounded. 
Alex wears ANOTHER Shirt 3.0, Blue Grey (see more) & ANOTHER Hoodie 1.0, Grey Melange (available in-store only).  
And now, the recipe...
RECIPE:
- 1 kg of starchy potatoes (cooked a day before and mashed while they are still warm)
- 1 cup of wheat flour + 1 more cup to add while rolling
- A big bowl of plums (cut in half and pitted)
METHOD:
1. I cook peeled potatoes a day before in salted water, mash them after cooking and leave them cold
2. Next day I sprinkle the cooking surface with flour, transfer potatoes to it, and add 1 cup of flour partly
3. Next, I knead the dough slowly. It takes time to extract as much starch as possible. Potatoes and flour must be well combined; the dough must be sticky but come off your hand
4. I then divide the dough into parts, still sprinkling more flour on them. I roll each and then cut them into equal pieces, moving a flat circle from them. I put one plum in each of them, close the dough around it and roll it in the flour on the table
5. While making little balls, I bring salted water to a boil
6. Bring the dumpling to the hot water and then boil each for around 5 mins from the moment the dumpling comes out to the top of the boiling water
7. Take them out of the pot and put a bit of oil on them, so they don't stick together
8. The typical polish way of serving them is with sour cream and sugar. However, I like them most with burned butter and fennel flowers.
9. Bon appetit
10. For the next day, you can heat them in a pan with a bit of butter to make them more crispy and get a deeper taste