Life With: Atelier Axo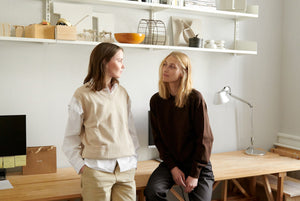 Life With: Atelier Axo
From friends to founders. In 2019 designer Rose Hermansen and architect Caroline Sillesen founded Atelier Axo - an atelier specializing in small-scale architecture and interior design alongside objects and furniture. We recently caught up with the girls, talking about everything from which country they believe has the best interior design and architecture to how they decorate their own homes.  
ANOTHER ASPECT:
What would it be if you had to describe Atelier Axo in three words?
Atelier Axo:

Intuition, dialogue and perception.
ANOTHER ASPECT:

In your opinion, which country has the best interior design and architecture?
Atelier Axo:
It isn't easy to point out one country in particular. For example, Japan inspires us in terms of architecture and life rituals. But, on the other hand, we like the Italian tradition for interior design with more bold furniture pieces and a more daring expression.

That being said, we both grew up in Denmark, and in the end, we are definitely affected and inspired mostly by the northern traditions in terms of light, materials and craftsmanship.
ANOTHER ASPECT:
Do you have any tips for buying furniture and objects?
Atelier Axo:
Go discover the secondhand and vintage markets. That is where you find unique pieces, even though it's not designer items. They carry a story and patina that only time can give a piece. We like to mix the old with the new.
If you like to buy a new piece of furniture, please look into how it was produced. And, if possible, support small independent designers.
ANOTHER ASPECT:
What experiment would you perform if you could completely ignore ethics and economics?
Atelier Axo:
Our big dream would be to design an art museum somewhere in Denmark, both for painting and sculpture. The merge of practicality and poetry is a dream challenge. In general, museums can twist proportions in terms of space, light, and materials in a more experimental and perceptional way than most other buildings. Sometimes it becomes a sculpture itself.
Caroline wears ANOTHER Shirt 2.1, Night Sky Navy (see more) & ANOTHER Pants 1.0, Burnt Amber (see more) & Rose wears ANOTHER Sweater 3.0, Dark Caramel (see more) & ANOTHER Jeans 1.0, Raw Indigo (see more). 
ANOTHER ASPECT:
How do you incorporate sustainability into your work, and what challenges does it entail?
Atelier Axo:
When developing and producing furniture, we only work with local danish manufacturers. Naturally, this means prices will become more expensive, but we believe it is an important part of bringing new products to the world.

In addition to this, we strive to make furniture that is both modern and, at the same time, timeless. We hope to create furniture that people keep for many years and are beautifully patinated over time.
ANOTHER ASPECT:
When did you become interested in design and architecture?
Atelier Axo:
None of us have a specific moment we can point out. Maybe it was always there; perhaps it was by coincidence. But we agree that it has always been about a sensory experience.
ANOTHER ASPECT:
What does it look like in your home interior?
Atelier Axo:
Calm, earthy colors and quite simple furniture pieces. We both have our Otto Puff and one of our "tavler" in our living rooms. We have different sculptures, drawings and paintings made by friends over the years. To put it short: We surround ourselves with stories.