Life With: Anton Bruusgaard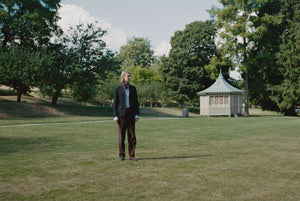 Life With: Anton Bruusgaard
We recently caught up with Anton Bruusgaard, also known as @khantonbundsgaard, a pastry chef based in Copenhagen, to spend a day walking around in his childhood-neighbourhood and hearing his thoughts on what sparks joy, life, and creativity.
ANOTHER ASPECT:
What gives you energy?
Anton Bruusgaard:
It gives me energy to listen to music - it sharpens the way I think and feel. I also like to tidy up and turn things around - move furniture around in my apartment. It fuels creativity, and it definitely energises me. Plus, working in good company always makes me feel better and fills me up.
ANOTHER ASPECT:

What's on your mind at the moment?
Anton Bruusgaard:
Old American vintage from eBay - very old pieces of clothing with details and craftsmanship. Romantic pies with a plethora of garden berries. Red is my favourite colour, so especially red, glossy berries. And also the whole Twilight saga, especially the dressing, the make- up and whole myth of vampires.
ANOTHER ASPECT:
What elements of nature attract you the most?
Anton Bruusgaard:
I particularly love lakes and streams with birds and fish, and branches hanging over the water and reflecting - a source of inspiration. I grew up by a lake called "Mølleåen", which is a lovely area. I'm also fascinated by flowers that you can eat - they have flavour and scent to a greater or lesser degree. I also love berries and looking at clouds and guessing what they represent - faces and shapes.
ANOTHER ASPECT:
Who has been influential for you?
Anton Bruusgaard:
I am fortunate that those who are influential to me have wanted to work with me at different times. My boss Bibi Husted Werner is enormously talented and I'm glad she hired me. Helle Høgsbro Krag was the first to believe in my cakes and she is great to work with. Since then, Frederik Bille Brahe has let me make cakes at Atelier September. They are all influential in different ways, and what they all have in common is that they have given me motivation and showed me that there is more out there.
Anton wears ANOTHER Polo Shirt 2.0, Night Sky Navy (see more) & ANOTHER Pants 2.0, Night Sky Navy (see more). ANOTHER ASPECT:
Can you tell us about your relationship with your baking?
Anton Bruusgaard:
I make cakes whenever I feel like it. You can't provoke creativity. Some weeks I bake cakes constantly - some weeks not at all. My craft is definitely driven by desire and emotion - and they come and go. It's nice to be able to go deep, completely engrossed, but it's also beneficial to be able to step back and just observe and take in. For me, inspiration is as important as the cakes.
ANOTHER ASPECT:
Can you share a funny anecdote about your work?
Anton Bruusgaard:
This spring I made nine enormous pavlovas for a party. The meringues should bake at 100 degrees for two hours, normal air, one at a time. I went into the kitchen on Friday afternoon and finished the nine meringues on Saturday morning. I slept intervals of two hours and the oven was on all night. I got a full night's sleep from many short naps and was fresh the next day - or so I imagined - luckily they all turned out beautifully. That's how I work, but of course it's also important for me to remember to take care of myself.
PHOTOS BY: