Life With: Lichen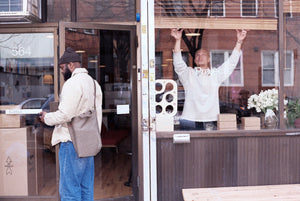 Life With: Lichen
For our latest episode of Life With, we caught up with the guys behind Lichen, the Brooklyn-based furniture, and interior design gurus. With one physical "if you know, you know" store. We first stumbled upon Lichen on the internet, as with many modern discoveries, and it felt like home. Or, at least, the home we want. 
ANOTHER ASPECT:
How did you arrive at selling furniture? If you weren't working in furniture, what do you think you would be working in?
Jared:

The studio I was working at in Brooklyn was closing, and it had some decent furniture that went unclaimed. I decided to add a couple of dollars to my pockets by selling the studio's furniture on craigslist. After realizing it was a pretty effective side hustle, I started focusing my efforts on more designer pieces, which is how I crossed paths with Ed.
Ed:

I was moving from a large loft into a much more traditionally broken-up space, and none of the furniture I had in the loft was going to work in the smaller apartment. I ended up having to sell everything and search for furniture that was multipurpose and spatially appropriate. If I weren't working in furniture, I'd probably be working on product design or back into my previous hospitality career, but as a cafe/restaurant owner.
ANOTHER ASPECT:

Are there any other art forms that you find inspiration in? 
J:
Stone & wood sculpture is a significant inspiration source. The works of Constantin Brâncuși and Isamu Noguchi help contextualize the other elements that make a home.
E:
I've been very intrigued with painting and mixed media artworks. Color composition and texture can change how one perceives a piece beyond just a 2D artwork.
ANOTHER ASPECT:
If you could only sell one type of furniture for the rest of your career, what would it be and why?
J:
Simple Stools and Apple Boxes. They're humble, easy to house, and have room for endless variation, like a white tee.
E:
Storage solutions. Shelving and cabinetry can transform a space from cluttered and disorganized to a peaceful environment.
ANOTHER ASPECT:
What are some tips for buying vintage furniture?
J:
Do your homework. If you like a designer's work, they also have a mentor or source of inspiration that may have informed that designer's work. For example, I've learned that Bruno Mathsson inspired Peter Danko. So if I can find any vintage Peter Danko pieces, I wouldn't be mad if I found some Mathsson.
E:
Don't always look for the name brand or designer. The utilitarian design always stays in style, especially if it's well-made. While it can sometimes lack personality, the contents in your home add character and complement a 'boring' piece.
Ed wears ANOTHER Polo Shirt 1.0, Light Grey Melange (see more) & ANOTHER Pants 2.0, Night Sky Navy (see more) 
ANOTHER ASPECT:
Tell us about a favorite piece of yours.
J:
My favorite piece is a Corbusier apple box produced by Cassina. It's one of a few Corbusier items constructed in wood, a departure from his typical tubular steel and leather design language.
E:
I enjoy anything designed by Gaetano Pesce. He's one of those designers who has mastered making artistic furniture that functions well daily within a home.
ANOTHER ASPECT:
What material would you never buy furniture made in? 
J:
Brass or gold fixtures that give off Boca Raton, Florida energy.
E:
Steel pipe furniture with reclaimed wood. Williamsburg circa 2007-2018 was a wild time, and that aesthetic crept into too many commercial spaces.
ANOTHER ASPECT:
Why do you think buying vintage is becoming more popular than buying new today? 
J:
Vintage has a history and patina that doesn't come with buying new. Contemporary curation has also helped define today's taste and what people gravitate towards.
E:
Social media has had its hand in people's purchasing minds for sure. You should only sometimes buy a vintage Camaleonda sofa in New York if you live in a railroad apartment. That kind of piece requires you to have a large open space so that you can truly enjoy its design. It doesn't hurt to have an Ikea table paired with some awesome vintage chairs.
PHOTOS BY: