5 THINGS THAT BRING JOY IN ISOLATION: CHRIS KONTOS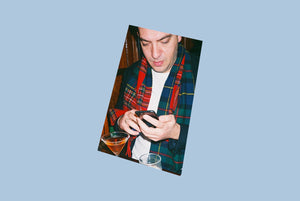 5 THINGS THAT BRING JOY IN ISOLATION: CHRIS KONTOS
Chris Kontos is the founder of Kennedy Magazine, DJ & Photographer. He's a long-time inspiration of ours and a guarantee of good taste. In his magazine Kennedy, he combines the best of film, music, art, and fashion from all over the world. Here are his top five things that bring him joy in isolation. 
(1/5): 
My favorite Japanese record and cover.
(2/5): 
My favorite photo book of all time - Tokyo Style by Kyoichi Tsuzuki. 
(3/5): 
This beautiful Jil Sander selvage jacket, made in Japan. Was posted by my friend Chris Moorby. 
(4/5): 
This beautiful editorial for nepenthes with actor Ken Mitsuisi shot naturally in some offbeat location in Tokyo along with a great interview. 
Editorial: http://nepenthes.co.jp/remix/kiokure/english.html
(5/5): 
Tokyo Eagly Jazz, my favorite jazz bar in Tokyo - featured in the editorial with Tokyo Jazz Kissas on the latest issue of Kennedy Magazine.
Website: https://www.kennedy-magazine.com/
Instagram: @kennedymagazine