Life With: Janie Korn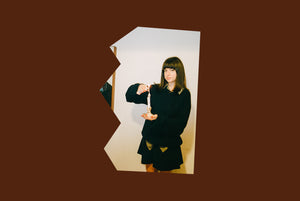 Life With: Janie Korn
New York based artist Janie Korn has garnered a cult following thanks to her smart and playful wax creations. Janie has created candles of RBG, the Safdie brothers, and even Billy from Family Circus. We met up with Janie (and her dog Pigeon) in the West Village to talk all things candles and clothes, and even get a tour of her nearby studio.
ANOTHER ASPECT:
As an artist who works in high volumes, are your days filled with structure or are they more relaxed?
JANIE KORN:

My days are probably equally not structured or relaxed. Ever since I moved my studio into my apartment, life and work naturally grew into one entity. So I may grocery shop in the middle of the day, if the mood strikes me, and leisurely peruse the empty aisles, but in the same vein, I'll stay up until 11pm at night working, to accommodate my orders. It's this strange dance between immense freedom and the anxiety that I'm never doing enough or creating enough. Balance is very aspirational to me right now.
ANOTHER ASPECT:
How did you start making candles?
JANIE KORN:

I worked for years at a natural skincare company, they made these super elevated candles with petals on top. You would gather them in a sachet and meditate on them, then light the candle. Later I think the idea of ritual came back to me when I was sitting in my studio, frustrated that my clay sculptures seemed to feel like space fillers on a shelf. I wanted to make art that also had this intimate level of interaction...and my wax sculptures were born!
ANOTHER ASPECT:
There's a certain ephemerality to candles, do you feel that this medium has particular weight in the current zeitgeist?
JANIE KORN:
I think right now bringing anything new into your home is much more of a deliberate act. In confinement with all our possessions you realize what a weight they can be. Candles don't require a commitment to permanence. It can be art for as long as you want it to be. It could be a celebration, burning on the top of a special birthday cake. It could be a ceremony of manifestation. These layers of utility and the spirit of meaning matter a lot to me as a consumer.
ANOTHER ASPECT:
Is clothing sculpture? Is that a commonality between clothing and candles?
JANIE KORN:
Oh I like this question so much. Clothing can absolutely be sculpture, but I see it more as a kinetic art. You build it on, with attention to size and form and texture (I love texture), but that swing of the pant leg or droop of the knit gets to come to life in a way that marble can not. I think when my candles are lit, and the wax starts moving, it's not unlike the sculpture of an outfit, jogging across a street, threads and stitches stretching and collapsing with that movement.

Janie wears ANOTHER Sweater 1.0, Midnight Blue (see more) & ANOTHER Shirt 3.0, Dried Herb (see more)
ANOTHER ASPECT:
How would you describe your personal style?
JANIE KORN:
When I'm not covered in wax, working in Call of Duty boxer shorts, I'd say my style lives at the intersection of minimalist menware-ish stuff and frilly babydoll. Lately my favorite outfit has been men's trousers with platform Mary Jane shoes, a vintage eyelet ruffled blouse with an oversized wool overcoat thrown on top. I love when silly and refined get to play together, in both clothes and in art.
ANOTHER ASPECT:
If you weren't working in wax, what would you be working with?
JANIE KORN:
Candy maybe? I actually did try making edible art for a second, when I was starting my candle stuff, but then I ate my supplies. I don't think I have the self control for it.
ANOTHER ASPECT:
How do you go about choosing subjects for your non-commission work?
JANIE KORN:
Conversations and memories. Weird things that I cherish, people I find special. I have this ongoing notes app list in my phone and so many that I urgently want to make, but the commissions take priority right now, especially with holiday approaching.
Janie wears ANOTHER Sweater 1.0, Midnight Blue (see more)
ANOTHER ASPECT:
Does larger format sculpture interest you?
JANIE KORN:
Yes, very very much so. My dream is to create a massive installation with larger scale works, but also smaller ones, all gathered together on an altar and burn them at once. I think it would feel very special to witness and the candles would in turn become a performance in the act of melting. Of course, I would need this funded because it's so much time and materials, but it is very much my ten year goal.
ANOTHER ASPECT:
What was your most memorable commission?
JANIE KORN:
Both members of this one couple bought each other the same three candles from my website. I thought it was so sweet and funny when they realized. It felt like I was part of an O'Henry story come to life.
ANOTHER ASPECT:
JANIE KORN:
Matches. They're the sexiest.
Janie wears ANOTHER Sweater 1.0, Midnight Blue (see more)
PHOTOS BY: 
JANIE KORN INSTAGRAM:
@janiekorn