Life With: Christian Ravnbak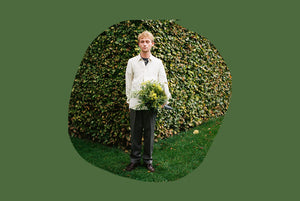 Life With: Christian Ravnbak
Go to any of the chicest places in Copenhagen and you're bound to see them; the untamed, voluminous flower decorations of Christian Ravnbak. We spent a day with the florist in one of the oldest parks in Copenhagen to talk everything flowers.
ANOTHER ASPECT:
What's so cool about flowers?
CHRISTIAN RAVNBAK:

I don't know about the flowers being cool or not, but there's so much tradition and beauty in them that it's hard not to like them. They're created and grown and nourished through the knowledge and wisdom of the gardener—people who've put their love and work into giving the flowers a chance to thrive and be at their aesthetic peak when you get your hands on them. That's pretty amazing, I think.
ANOTHER ASPECT:
Is there any room or setting in your life where you don't want flowers to be present in?
CHRISTIAN RAVNBAK:

I think that flowers should be part of every aspect of life. They give life to everything that is lacking of just that. They act as small gestures of life within the larger scheme of things.
ANOTHER ASPECT:
What's your favourite flower? Why?
CHRISTIAN RAVNBAK:
I couldn't pick. I often get surprised when I work with a flower that I haven't worked with for a while, because they all have their own little unique story or emotion. But one that I'll always love, and always has loved, is the lily of the valley; just the name alone even.
ANOTHER ASPECT:
Is there a flower that you refuse to use in your work? Why?
CHRISTIAN RAVNBAK:
I think that refusing to refuse one sort of flower is kind of snobbish. However, I think that the new trend or hype where people dip blooms in paint or spray them is a shame; even somewhat disrespectful. We should treat flowers with dignity, just as we treat other things in life.

Christian wears ANOTHER Shirt 3.0, Frozen Dew (see more) & ANOTHER Pants 1.0, Artichoke Green (see more)
ANOTHER ASPECT:
What's more important when it comes to flowers—their poetic qualities or visual appearances?
CHRISTIAN RAVNBAK:
They're both important, in my view. However, I think I'm more traditional in a way. I find that floral arrangements are at their best when a flower that possesses a poetic history takes center stage and that poetic element is then enhanced through caring for the flower when arranging it.
ANOTHER ASPECT:
Is there a sadness related to how short the life of a flower is?
CHRISTIAN RAVNBAK:
It is sad but that's also the joy of flowers. They're something that we get to enjoy for a short period of time—it's a natural part of life, just as with all the other objects and people and things that we encounter throughout our existence. Nothing is everlasting and that's what makes things beautiful. We are fragile and so are the flowers. Nothing is eternal, except for love.
Christian wears ANOTHER Vest 1.0, Grey Melange (see more), ANOTHER Shirt 3.0, Frozen Dew (see more) & ANOTHER Pants 1.0, Artichoke Green (see more)