A day in life with Mads Hilbert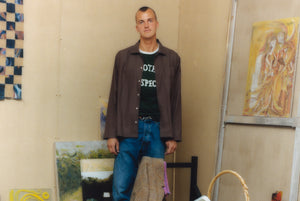 A day in life with Mads Hilbert
At the moment the Copenhagen-based visual artist, Mads Hilbert, are working on his first solo exhibition for the respected gallery V1 Gallery, opening next fall. He prefers to start the day early with a walk and then fills his mind with input from books, radio, nature, and other people, so he can tell stories with his paintings. 
Text by Ditlev Fejerskov, Photos by Peter William Vinther
What is your most important morning routine to start the day off right?
I really like going for a walk in the morning, preferably right when I wake up and before breakfast.

It doesn't have to be a long walk, just a good walk so I wake up properly.
What is your most important tool during a working day?

My eyes. I paint what I see. And I also want to see what I paint. The brush isn't a stupid tool either, or petroleum, which I use quite a bit during the day.
Which cultural elements such as music, podcasts, movies, books etc. do you use during a working day?
Talk radio, podcasts or audio books are a hit — I enjoy anything where good stories are told. I have just listened to Karl Ove Knausgård's 'Så megen længsel på så lille en flade', where he approaches Edvard Munch's pictures in an attempt to understand what is at stake in them and what they mean to us today. 'Hjernekassen', 'Ramt af kunst' and 'Biblen Leth fortalt' are some of my favorite radio programs. I also try to listen to the radio news at 12 o'clock because I love hearing the town hall bells.

I also borrow books from the library. I'm starting them, but I can't remember the last time I finished a book. Yes, I have read 'The blindfold' by Siri Hustvedt a few times, and I was very fascinated the first time I read it. The main character Iris lives in New York, is alone, young, and recently graduated. She goes exploring in the city and herself. She plays with identity and that in different situations you can put on a mask and take on a new role. But what I remember most clearly is the job she gets where she must describe different things blindfolded just by touching them.

Now that I think about it, maybe there is a connection between the way I paint and describing an object blindfolded. I'm not the best draftsman and sometimes feel like I'm painting a bit blind. I have to resort to supporting blobs and lines that can work together with the actual blobs and strokes to bring out the work I want.

What can you do to reach your highest level professionally?

On the one hand, I must continue as I am doing at the moment, but there is also a voice that says: more, faster and better. Regardless, it doesn't hurt to paint more, immerse myself more and otherwise just do what I feel like doing. Maybe I should finish reading that book.
Do you have any fixed routines during a working day?
I don't have fixed work routines, but the day has to start early if I have to go to the studio, because there has to be time for a walk and to make lunch. I should get better at cleaning brushes, I'm incredibly bad at that. I can curse myself if I haven't washed the latest painting completely out of the brushes.

What do you do to develop both professionally and personally?

I try listen to my friends, even when they don't only have good things to say. Maybe they ask me: "What are you actually up to Mads"? And then I try to explain it, but I don't really succeed, and it makes me think about what I'm actually doing. That way I can get to a better place. Both in art and in life in general. 
Mads wears ANOTHER Shirt 2.1, Brown (see more), ANOTHER T-Shirt 2.0, Evergreen/White (see more) & ANOTHER Jeans 1.0, Used Blue (see more).
How do you end your working day?
I end every working day with a cigarette and cleaning brushes - or at least I try to ...

How do you prefer to spend your evening?

There is nothing better than hanging out home alone in your pajamas and doing nothing. But I'm also a social person, so being out with my friends every now and then isn't bad either.

What can you do in your spare time that gives you inspiration for your work?

As I said, I really like going for walks. It doesn't have to be in nature, although I probably prefer it, so a trip around Nørrebro or out to my studio in Amager can also be good. Something always happens that sets my thoughts in motion. It can be a pigeon reflecting in a puddle, or just sneaking a peek at other people - it just gets the mind flowing.

Do you have any regular routines before you go to bed?

I take a bath. We don't have a bath in our apartment, so there are communal baths down in the basement. It suits me best to slip down in slippers and a towel in the evening, when the street is completely quiet, and I don't have to pass through bakers and prams.