A day in life with Esu Lee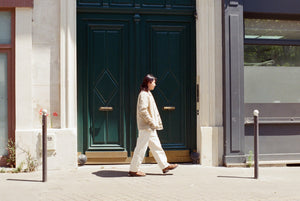 A day in life with Esu Lee
Since Esu Lee moved to Paris from South Korea in 2018 and opened the instant popular restaurant C.A.M. Import Export he has been one of the most acknowledges chefs in the French capital. Now he just finished half a year as the resident chef at Mokoloco. For Lee the most important daily routine is to acquire as much new knowledge as possible. From Science Channel and museum visits to conversations with all kinds of people.
Text by Ditlev Fejerskov, Photos by Julia Velázquez Charro
What is your most important morning routine?
Waking up after a good amount of sleep, trying not to check my social media. I start watching a documentary, mostly about general science and often the one I wanted to watch in the morning of my day off.  Sometimes I just open for Science Channel other times I watch different stuff on YouTube. I feel really relaxed when I watch this stuff. I don't know why, it's just good for my brain.  
What is your most important tool during a working day?
A watch. I must have watch when I'm working. I tend to be too focused, so I lose the sense of time. I don't know when to stop. A watch wakes me up to the real world. Time is running, you must wake up. Cooking can be dreamy, but on the same time it's the most realistic job. The watch is the balance between dreamy and realistic.  
Which cultural elements do you use during a working day?
I try to read a lot. I recently read 'Cosmos' by Carl Sagan, 'On Food and Cooking' by Harold McGee and Kim Whanki's essay collection 'Where, in What Form, Shall We Meet Again'. I also love magazines, which I prefer to buy at Yvon Lambert, a magazine- and bookstore in Paris. One of my favorite magazines is MacGuffin. And then I listen to a lot of documentary audio doing the day.

What can you do to reach your highest level professionally?

Not trying to reach the highest level only in my profession, I am trying to accommodate other things into my profession such as general science, architecture, fashion … I just watch a lot of random stuff as I mention. I go to museums – I like Pompidou (in Paris, red.). I go to fashion stores. I have a lot of interest; I am trying to be curious. I like to talk to people from other industries and ask them about their work and life. That makes me feel good as a human being. 
Do you have any fixed routines during a working day?
I do not have fixed routines, but I try to write down things to do first.

What do you do to develop both professionally and personally?
Trying to learn from everything – I really mean everything – and stay being myself.

How do you end your working day?
I take a hot shower and do a little stretching before bed.

How do you prefer to spend your evening?
To walk a little or ride a bicycle and have a nice meal and a glass of wine somewhere chill, not too loud but meaningful. Restaurants such as Le Tagine Restaurant, Chez Omar, Abri soba and Sambuja. It could also be a nice café such as Bar Italia Records or Pilo's.

Do you have any regular routines before you go to bed?
I leave the radio next to me. I enjoy listen to a Korean hosting show which is really light. The host is not too serious, but one the same time the themes are quite deep. He tries to make it easy for the public. I guess that is also what I try to do with my food. I have a very deep understanding for the ingredients and the process, but I just want people to see the simple part. I don't want them to see all my hard work, they should just enjoy a nice meal.