Life With: Flynn McGarry Part II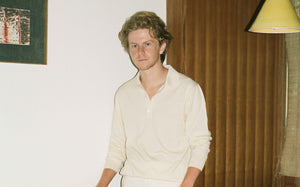 Life With: Flynn McGarry Part II
Flynn McGarry opened his first restaurant, Eureka, in L.A, at the age of thirteen. Then he opened a second one in the West Village in NY where he served a 14-course tasting menu. That early talent, which he mastered by cooking his way through expert level recipes in Chefs cookbooks and studying YouTube videos, led him to go work with the best teachers: Daniel Humm, René Redzepi and Thomas Keller. Soon McGarry's popular New York restaurant, Gem, will open in a new and updated version.
Text by Ditlev Fejerskov, Photos by Luis Garcia
What did influence you as a child? 
Early on I was very interested in sports and music, I loved The Beatles and wanted to be David Beckham. After I wasn't too skilled at either of those trades, I found cooking and became inspired by great restaurants like The French Laundry and Noma.
Who were your early heroes in food, design or what else were your interests? 
I really looked up to Thomas Keller, Grant Achatz and Rene Redzepi when I was young, they were at the top of the world for food and inspired me to keep working.
Where did you get the interest in food from? 
My parents weren't great cooks, so the responsibility eventually fell on me. As I started to cook simple food, I wanted to explore more intricate cooking.
Where did you get the idea to open your first restaurant at such a young age?
A restaurant is the goal for any chef, at first it seemed to be such a faraway goal, but it drove me to continue in my career.
What inspired you in the beginning?
I had such a drive to create. I was inspired by every kind of food and was so excited by the millions of possibilities. 
Who have been your mentors when it comes to cooking?
Daniel Humm was an early mentor for me, he created such a quintessential New York restaurant, and still helps me today.
What have been the most memorable moments with food in your life?
I think my most memorable moments with food have been sharing meals with close friends of mine. 
What is your philosophy when it comes to cooking? 
The ingredients are the most important, and anything you do in cooking should highlight the ingredient. 

Who are your heroes today?
I still look up to the same chefs that initially inspired me to get into cooking, but I have become inspired by many designers as well such as Axel Vervoordt, Jean Prouvé, Marcel Marcel Breuer and Le Corbusier.
What else inspires you?
I am incredibly inspired by nature; it informs all my cooking and interior design.
Which places inspire you? 
I love to go to Denmark. The design and food have inspired my cooking and interiors so much.