Cooking With: Sebastian Quistorff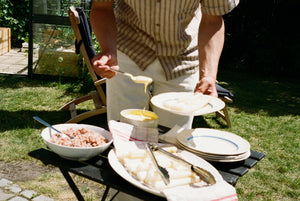 Cooking With: Sebastian Quistorff
We went to visit our friend Sebastian, the co-founder and brand director of Prolog Coffee, for a lunch in his beautiful garden in the suburbs of Copenhagen. We asked Sebastian to share his favorit summer dish and thought why not make a meal out of it. Together with his wife Martha and Photographer Kaspar we enjoyed asparagus with fjord shrimps on a welcoming summer day. 
"The asparagus season runs from late april until late june (sankt hans is the finale day). The period is short but I try to enjoy as much white asparagus as possible. The white asparagus with hollandaise and fjord shrimps is the clear messenger that summer has arrived. Boil them in salted water, add more acidity to your sauce than you think, drink rich floral white wine, and enjoy with friends.
Welcome summer, We've missed you."